You are in: Imrepol > Prenosil Permanent waterproofing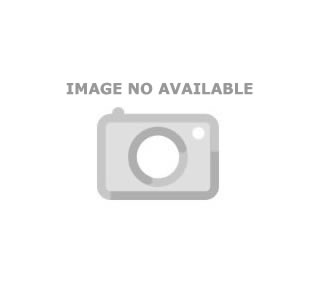 Prenosil®
Permanent waterproofing System
PRESENTATION

Permanent waterproofing
PRENOSIL is a waterproofing product, in liquid state of simple application and it acts by chemical reaction with the calcium contained on treated surfaces.

The mineralization treatment is permanent and it is not subjected to any kind of erosion or ageing. Its duration is unlimited, depending only on the duration of the treated surface.
Permanent waterproofing PRENOSIL

In deposits, silos, pools, lift holes, basements, channels, tunnels. Acting form inside construction or from the external side without distinction.

Walls, flat coverings, vaults, pavements treatments.
CHEMICAL BARRIER OF PRENOSIL, Permanent waterproofing
Definitive upward humidity removal by capillary sky-lift in walls and foundations through drills perforation system.
CONCRETE JOINS
The chemical reaction of calcium contained in concrete forms calcium silicate particles with common elements to fresh and old concrete, which with them create molecular link with enough resistance so as to ensure a right link in economic, safe and lasting form.
PAVEMENT FORMATION BY USING PRENOSIL, Permanent waterproofing
Concrete pavements treated with PRENOSIL present remarkable characteristics: undust and sheer resistance to aggressive chemicals, and to mechanical wear, being its application suitable for garages treatment, industrial factories, milking parlours, beer factories, runways, freeways, concrete roads.
NATURAL STONE RESTORATION WITH PRENOSIL, Permanent waterproofing
PRENOSIL use is completely suitable for natural stone consolidation and regeneration treatments, very especially in limestone rock and also in sedimentary sandstone.

Applied with suitable dilution, with a brush or through projection, PRENOSIL acts efficaciously in prevention and sterilisation of biological leprosy and as a protection against attack of atmospheric sulphide in artistic buildings and monuments.
PRODUCT EXPLANATION PRENOSIL, Permanent waterproofing

PRENOSIL is a designed chemical compound to be used in all kind of materials through projection or applied with a brush.

The surfaces to be applied must get wet with water until their saturation and afterwards apply a coat of PRENOSIL.

It is produced a chemical reaction nearly instantaneous, in which take part calcium contained in the surface, water that brings oxygen and hydrogen and the proper PRENPOSIL that acts as catalyst and brings other elements to the reaction.

These combined elements are changed into calcium silicate glass that occupy the empty spaces, and they block pores and capillary tube, plugging them and stopping water filtration.

Although it is a surface treatment, PRENOSIL works in depth, creating a reaction chain that displaces through treated wall, always to the water direction, achieving superior depths to 10cm and supporting pressures water of 2Kg/cm2 equivalent to the performed pressure by twenty tons of water per m2 of surface.
HOW TO BE APPLIED PRENOSIL, Permanent waterproofing

Get all the treated surfaces wet with plentiful water.
Clean cracks and, remove stucco in dab state and treat with PRENOSIL and concrete powder inside cracks.
Apply a coat of PRENOSIL with a brush or through projection at low pressure preferably with Air-less gun or manually.
Apply a coat of concrete, or scrub powder concrete on the hole surface with the help of a thick brush..
Apply a second coat of PRENOSIL.
In the joint between floor and wall, open a groove of 6-8 cm depth in 45º angle and 2-3cm wide (Fig.2).
Treat the interior area with PRENOSIL and powder concrete and re-apply conventional mortar avoiding encounters between floors and walls.
BARRIER AGAINS ASCENDING HUMIDITY

Remove what has been filled with mortar and plaster plastered in affected zone by humidity.
Perforate in the wall base a double line of drills, deeping until about 10-15cms of the opposite side of the wall, without piercing. (Fig. 1).
The hole diameter should be 25-30mm with a separation of 15cm between them and an inclination of 30-45 grades according to the wall.
Re-fill all the holes with water and leave it until it would be absorve by the wall.
Re-fill with PRENOSIL again several times until the holes do not absorve more product..
The areas between the two lines of drills remain crystallised and forms a barrier insourmoutable for the capillary humidity.

Holes are corked with conventional mortar.

It is recommended a dried prudential period before polishing and painting once again.
BARRIER AGAINS CAPILLARY HUMIDITIES

Perforate drills in double line with an inclination of 30º or 40º and a separation of 15cm between each one.

Re-fill several times with PRENOSIL until saturation, until the holes remain full during several hours.

Corked orifices with conventional mortar and polish again.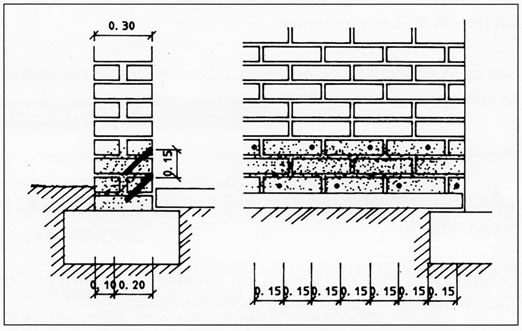 WATERPROOFING TREATMENT FOR WALLS

Waterproofing the outside.
Waterproofing from the inside.